my blog posts don't matter unless they get ten billion comments and people share them on twitter
Or something like that.
I would very much like to sit down and tell you to keep on writing! It doesn't matter what people think! Other people's opinions don't matter and your worth isn't based on those opinions anyway! It would be fantastic to tell you that. Past all the pointless sappy pump-up sayings, it would probably be true.
It just feels a little weird to say that when I don't believe it 90% of the time. SO LET'S TALK ABOUT A THING WE DON'T WANT TO ADMIT.
*moment to prepare*
I'm petty, and I hate it when other people are more successful than me, and it's irritating sometimes when people get more blog comments, and it feels like if I'm not getting praise and validation then what's the point?
I stared at the blog post box for a long time before I typed that. Not because it's particularly elegant (lol you wish) but because I don't like typing it! It's nasty. It's petty. It's illogical. It's a pretty crappy mindset that puts down the success of others for no reason and doesn't help you in the slightest. It's a mindset I have to work against most of the time, when I'm able or when I'm actually trying, and typing it out makes me more ashamed than ever, because I don't want it to be true.
I don't want that to be me, and I don't want it to be such a struggle. But it is. Every writing snippet is a competition, a need for me to check and see if I'm a better writer!! Every blog post is a comparison between their comments and mine. How much twitter interaction do they get? How talented are they actually? And so on and so forth, a nasty whirlwind of pessimistic thoughts that tend to motivate me in exactly the wrong ways. Everything is a comparison and a competition, and when I entertain it it destroys my creativity. I go into a Deep Dark Spiral, snap out of it eventually, and by that time it's turned into a Captain Jack Sparrow situation where I'm berating myself while walking in circles.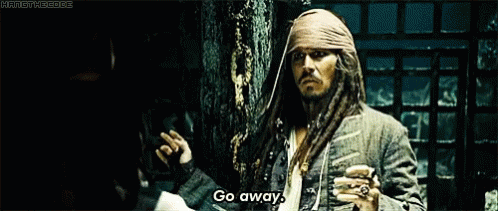 (Pro-tip: do not be Captain Jack Sparrow.)
You just have to ask yourself...where does this come from? As artists, as writers, shouldn't we of all people acknowledge how hard it is to be one? There's no reason why we shouldn't be the first ones to realize that there's plenty of room around the table for everyone, limitless ideas to dip into, a whole universe full of ideas and talent. It's not a competition. It's not a comparison. It's your own little journey, and all that. I don't think it's from a lack of understanding this. I don't think it's because we don't value and like our fellow creators. I think a good bit of it comes from that nasty dark little thing inside us:
A need for validation.
Let's be real here for a second: social media is poison for artists/writers/creators/artsy kiddos of all types. It's a great thing, an amazing thing, actually, and it helps us in so many ways, but it's also just the kind of environment you don't need. You take a bunch of insecure people trying to figure out how to create things they don't hate and stick them into a world where they get to see everyone else, and the best things everyone else has to offer because that's what they're putting out, and you give them constant access to that information and that comparison. It's destroying. You could scroll through Twitter looking at other writers and their work for hours if you wanted, and let's be real here, a lot of that probably isn't going to result in you appreciating their lovely work. We like to compare ourselves to other people -- it's a human nature thing -- and we like to do it a lot. The last thing we ever needed was a place where that's within reach 24/7, where you can react to anything instantly and see other people reacting to things.
Dangit, it just feels so good to get a nice comment on your writing. It feels amazing! Somebody on the other side of the world liked your thing. We spend our whole lives attached to the things we're creating and hoping that they'll resonate with someone else too. With the internet we can shove our writing out there and GET INSTANT VALIDATION AND PEOPLE WILL LIKE IT AND WE WILL BE GOOD AND WE WILL KNOW THAT WE'RE DOING GOOD except oh no, that person has a thousand followers and people compliment them all the time!! but how can they be better than me!! they're not!! it's not fair!! etc. etc. etc. forever into eternity.
You don't need me to tell you comparison is bad. You don't need me to tell you you're not supposed to do it. You've heard it enough times. I've heard it enough times. What we really don't like is admitting that we have that problem in the first place, and sometimes it's downright nasty. So this is it, my confession: I have a really bad attitude about creative things. And I want you to validate me.
When I write a blog post: I obsessively watch the comments and tally up the numbers in my head.
When I post a snippet: I get irritated when only a handful of people tell me how amazing it is, and I expect those compliments.
When other people have nice things said about them: I feel a flicker of irritation, even though I know it's irrational.
The thing about this need for validation is that even when you get it, it's not going to be enough. Twenty people could tell you you're amazing and you would still find something to compare it to. It's a tricky lil creature that gobbles up all your confidence and replaces it with Words From The Internet instead, until you're leaning on a wobbly crutch of typed-out words that for some reason define your worth. If people like your writing online, you should keep writing! If people comment on your blog posts, you should keep blogging!
(I'm not denying the very real sucky feeling that comes with no one seeing your stuff, or it feeling that way. I'm talking about the obsessive side of it that screws you over.)
For a whole host of reasons, we wrap our worth and motivation to create up in what people think about it and whether or not they think we should, and as someone who struggles with this every single day... it's stupid.
You're not stupid. This is stupid.
It's stupid that we decide that we should keep doing a thing based on how many comments people leave.
It's stupid that our first thought is not whether or not we like what we're doing, but whether or not other people like it.
It's stupid that we get frustrated when other people ~have more success than us~ instead of acknowledging that there's room to go around and creativity is this big fluid thing with so many variables and it's not a determination of good vs. bad, okay?
It's stupid. And I hate hate hate that I do it.
This is a letter to me more than to anyone else; a reminder, a note to self. I am not internet-me. I do not need to wait for people to validate the things I want to do. Feedback is all good and well, but that's a different stage and I know it, so I need to stop making that excuse. I need to sit down, stop waiting for people to approve me, and write the things I want to write. All the rest can come later.
You all don't need to know what I'm doing at all times. You don't need to know all about the perfect creative life I'm obviously living. I have to be able to give myself room to breathe and to make messes. I have to have some things that are mine -- otherwise I'm killing things while they're too delicate to stand on their own.
I want all of you to validate me on the internet and share my posts on Twitter.
But I really, really shouldn't.
- Aimee