why strong female leads don't work (and what does)
"This movie has a strong female lead!" "We need more movies with strong female leads!" "a lack of strong female characters in this story..."
and so on and so on, into eternity, people demanding "strong female leads/characters". There's a pushback against the lack of well-developed, strong, independent female characters in media, says the internet, and we have to fix that. Female characters are put under the microscope, examined for strength and well-written-ness and representation, a checklist of qualities they should fulfill before we scream and flail and applaud them all across the internet for everybody to see. "Strong female characters" capable of handling themselves are heroes, a response to men dominating stories, women putting men to shame. They're role models/icons/amazing hero goddess queens who can do no wrong. Or they're not diverse enough, or they're poorly-written, or they have to be saved by a man, or they don't have enough dialogue, or they're dominated by the male lead, or they're not there at all and the movie is a huge sham, and so on and so forth. "Why couldn't this story have been about [female lead] instead?" or "Why didn't this movie have more women in it?" or "an all-women version of [insert story here]."
No.
no no no no no
Listen, I love my female characters as much as anybody! I love watching girls kick butt. I love watching girls wield lightsabers (or blasterssss) or drive fast cars. I love watching girls be awesome and I love it when awesome girls head up a story! Of course I do. I'm a [young] woman, and it's important for me to see female role models in media. That matters, I agree. But
"Strong female leads" almost never work. And they're not empowering.
"What's wrong with you?" you ask. To which I respond "a lot of things," but that doesn't apply here.
I don't enjoy most of these strong female leads.
I don't like it. I don't want to see it. Actually, I think it's a little bit insulting. When we laud female characters for beating up all the men and being the STRONGEST AND MOST POWERFUL STRONGER THAN ALL THOSE DUDES we more than anything turn women into a competition, into a strength test, into misdirected anger against men, into agendas and unrealistic images. We attempt to shove women into male roles to prove how strong they are and ultimately turn them into a joke, because of the simple but radical truth that men and women are different.
I want to watch real strong women, and I want to watch women in women's roles.
Let's look at a few examples, shall we? I want to throw out some female characters praised as strong and badass and hardcore that really...don't work, and the amazing ladies that do, and why I think that is.
(obviously based on my own opinion of what works and what doesn't, but.)
female action heroes
A big one right now! (at the time I'm writing this Atomic Blonde just came out, so I've been hearing a lot about it.) We want more female action heroes! We want a female James Bond! We want to watch some female spies kick butt!
Except no, we don't, because that doesn't work. (Because again, the whole "men and women are different" thing.) Female action heroes, for the most part, attempt to sell us the idea that women can fill the exact same Jason Bourne/super-spy/etc role that men fill, that they can knock out a whole host of thugs, when...that really isn't how they work. I'm all here for female action heroes! But you cannot put them in the same situations, give them the same heavy physical missions, without suspending disbelief to the point where it's just insulting.
Here's an example using
Atomic Blonde
.
(it's a political channel, yes, but ignore that in favor of the actual science and proof and argument regarding female action heroes alone.)
Not to use myself as an authority, but I'm currently a green belt in karate/mixed-martial-arts, and I've been around it for a LONG TIME. I've fought dudes way bigger than me. I've watched other girls at higher levels fight dudes. I've been around a lot of it. With technique, with skill, you can absolutely beat up a guy twice your size, both on the ground and hand-to-hand. (I've seen it happen. I've beat dudes before, mwhaha.) But you cannot go about it in the same way, and you're going to have some difficulty. When female action leads beat up a whole stairwell full of thugs with ease, when they perform physically improbable/impossible feats in order to beat up those dudes, as fun as it is to watch...it's insulting. If the only way your female lead can #beatthosemen is through defying physics, what's the point?
WHAT DOES WORK:
Sliding on over to one of my all-time favorite movies and a truly incredible action star who happens to be a woman....all hail the queen, IMPERATOR FURIOSA of Mad Max: Fury Road.
Furiosa is an A+ female action hero whom I adore, because
she's not a dude.
She doesn't have to fulfill the role of a dude and she isn't asked to. She is a woman being a woman, and that makes her effective, because we aren't asked to believe anything improbable. She's a woman protecting other women, acting out of protection and compassion, and she uses uniquely female traits to do so, which is AWESOME. She's tough, yes, and more physical, but she plays to her own strengths. She doesn't kick the crap out of men ten times bigger than her with ease. She uses cunning, and mental tricks, and general sneakiness. She uses a gun (the great equalizer, really) and REALLY FAST APOCALYPSE CARS WITH SPIKES and in hand to hand combat, she doesn't defeat them with ease, because she can't, but that doesn't detract from her strength. She isn't a replacement for or the physical equal of the male lead, Max (whom I also love). They each have different strengths, weaknesses, personalities, and those compliment each other, because she isn't forced to one-up him on every occasion. And it's
believable
. Female action heroes find their strength from their femininity, from their compassion and caring, and there is nothing wrong with using these feminine traits to have some different tactics. In fact, it's kinda great.
(the following fight scene is beautiful and i love it but also it's a very good example of their varying strengths and how to HAVE A FEMALE FIGHT IN A WAY THAT ISN'T OVERPOWERED AND STUPID GOSH)
honorable mentions
for great and still-feminine female action heroes include all the wives from Fury Road, Mako Mori
(Pacific Rim),
Jyn Erso
(Rogue One and yes, I'm totally counting her, KEEP YOUR MOUTH SHUT), etc.
female superheroes
Granted, this is a bit different, because superheroes have, you know, superpowers. So this is one instance where women easily crushing dudes is fun as heck to watch and not irritating, because of super-cool super-powers and such equaling everything out. But. There are still some problems here, especially with female heroes with less powerful powers and such.
Lookin' at you, Black Widow.
I love Black Widow! I love her comics! There are some especially good comics that make her slightly more human and realistic and actually make sense, while playing up on her feelings and femininity, and I like those. (Black Widow by Nathan Edmondson is my favorite by far.) So this is mainly directed towards MCU Natasha, as much as I love her also, and the way she's often treated by fans and critics and writers.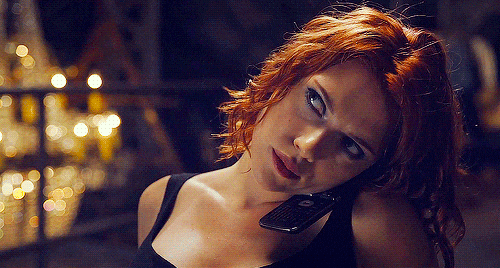 best black widow scene by far, honestly.
Movie-Black-Widow has no superpowers, not really. She's a super-secret super-awesome agent in skintight gear (not the problem here, actually) who BEATS EVERYONE WITH EASE, especially in the first few movies in which she appears. Which is a shame, because she has the potential to be a lot more, and the more mental aspects of her missions are much more interesting. Maybe the biggest shame about MCU Black Widow is the way we celebrate her insane fight scenes but the moment she showed some feminine features, some feelings and vulnerability, that was torn apart. Remember Age of Ultron, the movie that isn't half as bad as people complain about it being? Remember that time when the writers were ripped up and down because Black Widow showed sadness and regret over the fact that she couldn't have kids? Remember when that feeling (a perfectly normal and understandable and female feeling) was shunned and rejected and called sexist? Remember when she dared to have a romantic arc and people got REALLY REALLY ANGRY ABOUT IT because she had actual feelings? Remember all that? Because I do, and I'm still angry about it. Black Widow is reduced to the typical female hero and not allowed to have any female qualities, and it kind of sucks. This doesn't work, and we need to stop treating female characters this way.
WHAT DOES WORK:
So NOW let's shift to another amazing female superhero-who-doesn't-really-have-superpowers, Iron Fist's Colleen Wing.
I love Colleen! A martial arts master, a sensei, a leader and teacher, a hardcore woman who's also allowed to have feelings.
(keep your Iron Fist negativity away from me, or maybe don't, because I'm ready to Fight.)
Colleen is able to hold her own, but that's due to her incredible technique, and for the most part this show does a beautiful job at showing that. While she's able to win, while she beats up people and it's great, she also has difficulty, especially when there's a size/strength difference or the odds are stacked against her. She struggles and gets knocked down a
lot
, and it's her technique that wins, and not easily. She's also allowed to have real, actual feelings, to be a sensitive and compassionate person with a love interest. She's also deeply feminine and her strengths lie in that -- she's a teacher, she cares for and nurtures and looks after her students, she's not emotionally closed-off, people and relationships are important to her. The following is one of my favorite show/movie fight scenes, because it accurately shows both technique and the realistic difficulty of fighting dudes when you're much smaller than them.
honorable mentions:
Elektra Natchios
(Daredevil)
, Wonder Woman
(which I have never actually seen, but from everything I see she's a great example of this also and deserves credit from even my marvel-loyal self),
Kate Bishop
(Hawkeye)
, Misty Knight
(Luke Cage)
I could keep going forever, but in the spirit of keeping this post slightly less than book-size, I'll have to continue with my other grievances later. For me, it boils down to this:
women aren't men, and pretending that they can fill the same roles or super-powering them in order to achieve that isn't powerful, it's insulting.
It suggests that our own different strengths are less, that we should be able to do everything men can do and fill the same roles in order to be strong, and I hate that more than I hate most things.
Stop doing this. Stop writing "strong female leads" and maybe just...start writing actual women, for a change.
- Aimee